Welcome to ChildSense
ChildSense offers positive behavioral resources for teachers and parents.
Child behavior authorities and ChildSense founders Jeff Fink and Jon Halpern have developed strategies that help adults raise respectful children who take more responsibility for their own behavior. Recognized as experts in the process of changing children's behavior and known for their entertaining and dynamic style, Jon and Jeff's books and videos have educated parents and teachers nationwide.
RESPONDING TO STUDENT BEHAVIOR: Preparing for Teaching - is now available in both a book and epub downloadable file below. If you have questions, please contact us!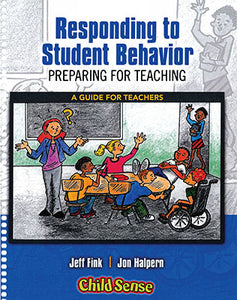 "An excellent program!"
- Harry K. Wong author of First Days of School
RESPONDING TO STUDENT BEHAVIOR: Preparing for Teaching
Jon and Jeff were honored to present their material on  Responding to Student Behavior at the Minnesota Association for  Children's Mental Health conference in Duluth and the National  Independent School...
After all the emphasis on building classroom community, teachers are still struggling.
Research has shown that students have higher achievement scores in classrooms where everyone feels accepted, valued and safe.
Developing a unified classroom community, however, is complex.
Materials for Educators and Parents