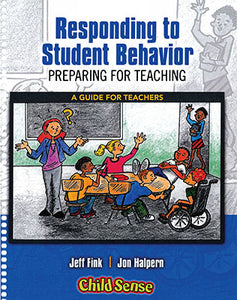 RESPONDING TO STUDENT BEHAVIOR: Preparing for Teaching
Regular price
$22.95
$0.00
Unit price
per
On average, teachers lose half of their teaching day due to classroom disruptions. It is essential, therefore, that teachers have a plan to respond to behavior in the same way they have a plan for teaching content.

Responding to Student Behavior presents a clear and positive four-level system. By practicing and following this system, teacher candidates will find they are more confident and better prepared to respond to behavior in their own classrooms.

This 71-page book is designed for current teachers and teacher candidates enrolled in classes with a practicum or field experience (such as Theory to Practice) as well as for those who are student teaching. The text provides opportunities for observation, reflection and practice of the content presented.

TESTIMONIALS

"The teachers in my school experienced a forty percent decrease in classroom disruptions after practicing these skills for five weeks."

- Elementary Principal
"After learning and implementing these skills, I'm now rethinking my retirement plans."

- 3rd grade teacher

"Thank you for the profound impact you have had on my teaching."

- 9th Grade teacher

"Recommended for professional development and teacher-training collections."

- Library Journal

"This straightforward program outlines common sense classroom-management strategies to help reduce classroom distractions and disruptions and improve teacher-student relationships."

- Booklist